Asus ZenFone 5 comes with a new All-screen display and dual-camera setup on the front and back with Sony IMX363 main sensor, the smartphone makes use of AI to learn and adapt and deliver great results.
Intelligent Performance: Powered by Qualcomm Snapdragon 636 Mobile Platform with AI capabilities and ASUS AI Boost for ultimate performance.
All-screen display:  Ultra-slim bezel, all-screen 6.2inch display with a 90% screen-to-body ratio for a bigger and more immersive viewing experience in a compact 5.5inch-class body4
Intelligent cameras: Dual AI-enhanced camera, one powered by a 12MP Sony IMX363 sensor with 1.4 µm pixel size and other by a 120° wide-angle camera. Features Night HDR and AI Scene Detection
All-round intelligence: New AI-enhanced UI functionalities, featuring Smart Screen On, AI Charging, AI Ringtone and ZeniMoji live-animated avatars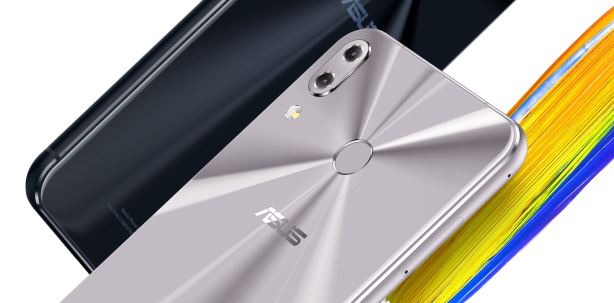 Asus has finally announced its 2018 all-new ZenFone 5, a next-generation 6.2inch dual-camera smartphone with the power of AI. The ZenFone 5 believes to deliver the ultimate smartphone performance a very competitive price. Powered by Qualcomm Snapdragon 636 SoC, Asus ZenFone 5 delivers good results. The smartphone also comes with AI-enhanced features powered by Qualcomm Artificial Intelligence Engine. The ZenFone 5 comes with up to 6GB RAM and 64GB of internal storage. Asus ZenFone 5 has an intelligent dual-camera system that is made to deliver perfect photos every time. The camera sensor on the smartphone is the latest Sony IMX363 sensor, a 120-degree wide-angle secondary camera with AI power. Some of the extra features on the smartphone include real-time portrait effects, Auto scene detection, AI photo learning and real-time beautification. Overall the Asus ZenFone 5 has a very striking beautiful ultra-slim design with bezel-less all-screen design, featuring a 6.2-inch display with 90% screen-to-body ration in an all-metal glass-covered body which looks small and compact.
Performance
The Asus ZenFone 5 is powered by the latest Snapdragon 636 processor with Artificial Intelligence enhancements, combined with up to 6GB RAM and 64GB of internal storage. The ZenFone 5 delivers amazing AI experience, combined with performance and outstanding energy efficiency the smartphone delivers a long lasting battery life. The ZenFone 5 comes with carbon cooling pads which efficiently manages heat and maintain the performance of the device. The smartphone is packed with a high-capacity 3300mAh battery with Asus BoostMaster fast-charge technology. Asus also introduces AI charging to maximize the battery lifespan and provide complete protection. The AI-powered charging dynamically adjusts the charging rate by monitoring and studying users charging habits.
Camera Performance
The Asus ZenFone 5  comes with a dual-camera system with advance hardware specification. One of the sensor feature Sony IMX363 with large 1.4µm pixels and a bright f/1.8 wide-aperture six-element lens capable of capturing up to 5X brighter and clearer photos in low-light conditions and also enabling dramatic Night HDR shots. The 120-degree wide-point optional camera empowers clients to catch more broad scenes, more normal gathering shots, and less demanding photographs in cramped spaces. The ZenFone 5 is capable of recording 4K UHD resolution videos and also comes with three-axis electronic image stabilization. ZenFone 5 also has a dual-pixel phase-detection autofocus system that locks on the subject and a 4-axis optical image stabilization system that keeps the lens steady for sharp and blur-free photos. The smartphone AI algorithms and advanced big-data analytics help the ZenFone 5 stand apart and evolve constantly. The system is designed to adapt and learn more about the results and delivery perfect photos every time creating a great user experience.
Amazing All-screen display
The Asus ZenFone 5 comes with a 6.2-inch ultra-slim bezel and all-screen display. The 6.2inch Full HD+ all screen display with 90% screen-to-body ration and 2.5D curved glass delivers a great visual experience to users. The display on the smartphone supports the DCI-P3 colour space, with a wide colour gamut that enhances colour saturation for vivid image reproduction. The sensors and intelligent display technology adjust the colour in real time according to the ambient lighting. The device also features a bunch of smart features which makes it a good screen.
Immersive Audio
The ZenFone5 comes with two magnet stereo speakers that deliver deep, rich and expansive stereo sound. Driven by dual smart amplifiers that ensures maximum volume while protecting them from damage. ZenFone 5 supports Hi-Res Audio files and also supports DTS Headphone. The smartphone is been shipped with a set of premium Hi-Res Audio-capable earbuds.
Asus ZenFone 5 supports face unlock feature and also has a fingerprint sensor, the smartphone also comes with NFC capability allowing secure Google Pay transactions. The AI-powered Ringtone intelligently adjusts the ringer volume according to the noise level, so users won't miss out any calls and also without disturbing people around. ZeniMoji is a new feature from Asus that lets the user create animated avatars using their own voice, facial expression and head movements. ZeniMoji avatars can be actively used in video chats or real-time live streaming.
Availability of Asus ZenFone 5 in India
There has been no official announcement about the launch of the device in Indian market but its expected to happen anytime soon. Stay tuned for more updates on Asus ZenFone 5.
For the latest tech news and reviews, follow Techipundit on Facebook, Twitter and Google Plus also follow us on Instagram.