Running a business online and want to get more sales and generate revenue using online platform? Facebook is the perfect spot for your marketing. The best thing is that you can associate the major market place platform on the internet such as Instagram and WhatsApp to the Facebook page and speak with your clients in a superior manner.
Facebook pages are quite popular because of the easy marketing process. Any business which wants to grow, can market itself using Facebook pages and get a lot of Engagements and grow their sales significantly. Facebook pages can also be connected with WhatsApp and Instagram which makes the whole process a lot simple.
Pros of connecting Facebook, Instagram and WhatsApp
All the three platforms are run by the same company which indeed makes the configuration much easier and at the same time security is maintained as there is no need to depend on a third-party application. This increases popularity and trust among the target audience.
WhatsApp is linked with the Facebook page for the customer to contact, Instagram has a lot many business features which are mentioned below:
Insights
Insights make it simple to have an overview of the growth of the profile. That is your visitors, reach on a weekly basis and also lets you understand the post engagement.
Business Profile
This makes your Instagram profile look more sophisticated with every description available at the glimpse.
Promote
Promoting content on Instagram helps in the increasing page, post views and engagement.
This article shows you the specific strides to connect Instagram and WhatsApp to your Facebook page for better business growth and synchronisation to increase sales online.
Better integration and features can be expected when all three platforms come together making it simple to maintain, work and grow business online.
WhatsApp
Facebook page followers can contact you on WhatsApp directly. There is no need to disclose the phone number on the page separately.
WhatsApp number can be displayed in the About section of the Facebook page.
Facebook ad with WhatsApp number can be created, which makes it convenient for buyers to connect with you directly.
Instagram
You can create ads for Instagram on Facebook and also link your Instagram account in the ad.
Responding to messages and comments in the inbox.
You can read and respond to Instagram comments and direct messages without any issues on the Facebook web version or Page manager app on your smartphone.
These features make it simple to handle and keep your audience well engaged which helps in growing your Facebook or Instagram page.
If you wish to have this in your convenience follow this guide:
How to connect Facebook Page to Instagram
1. Follow these steps:
2. Open the Facebook Page.
3. Click on the Settings option.
4. Switch to Instagram tab from the left side
5. Click the Connect Account option.
6. Enter the Instagram login details.
7. Set up your profile as a business.
8. Confirm the connection.
To begin, open up your Facebook page and click on the Settings button, which is on the top menu bar. From that point, you can discover the Instagram option on your left-hand side. You have to tap on this choice. Presently, you should see a button called Connect Account.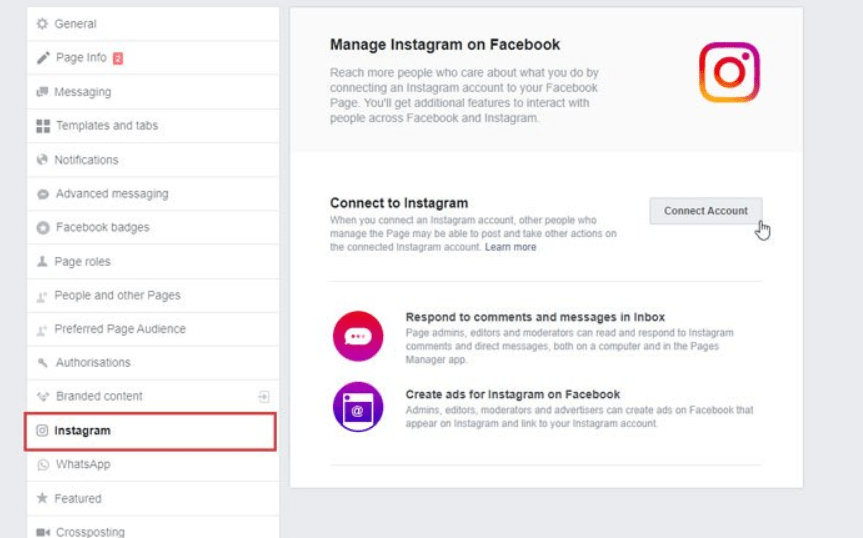 Click on it and enter your Instagram login accreditations. Once it is successful, it will request that you set up your business profile.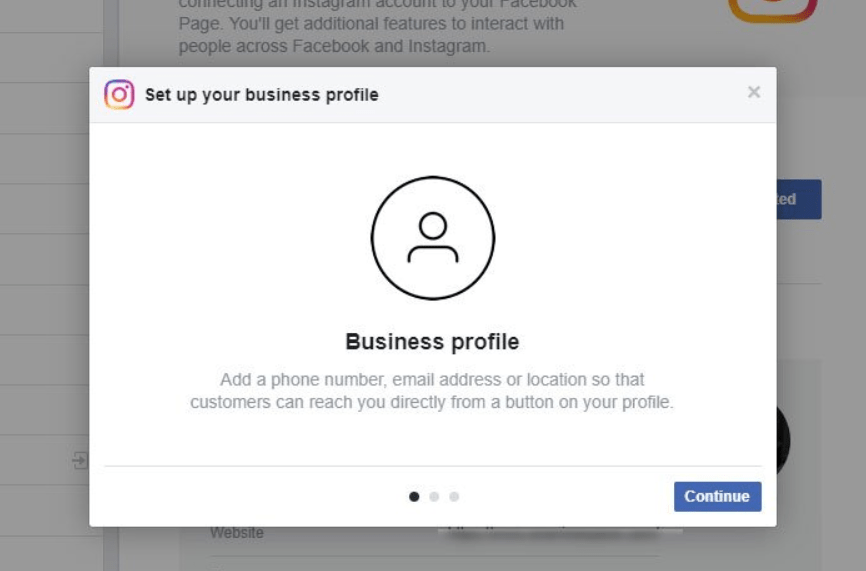 Now (without setting up a business profile), the interlink among Instagram and Facebook is done as of now. In the event that you need to change to a business profile, you have to go the setup procedure. Else, you can close this window.
The most effective method to connect WhatsApp to Facebook Page, follow these steps:
1. Go to the Facebook Page's Settings window.
2. Switch to the WhatsApp.
3. Enter the nation code and telephone number.
4. Enter the OTP.
From the outset, you should open the WhatsApps in the Settings panel of your Facebook page. It will request that you select the nation code and enter the number that you need to use as the WhatsApp. Click on the Send Code button, you can discover a WhatsApp message with an OTP.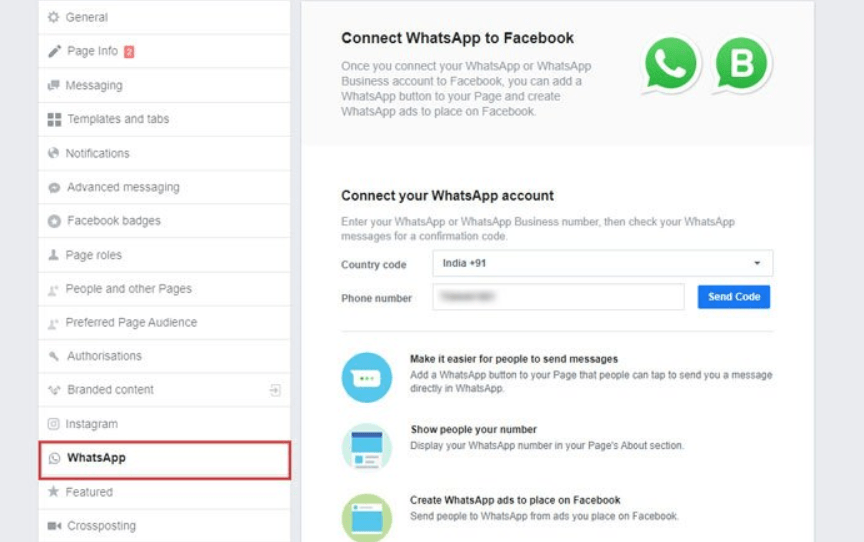 Enter the code to complete it. Once you finish the complete process successfully, if everything goes well you will find a window like this: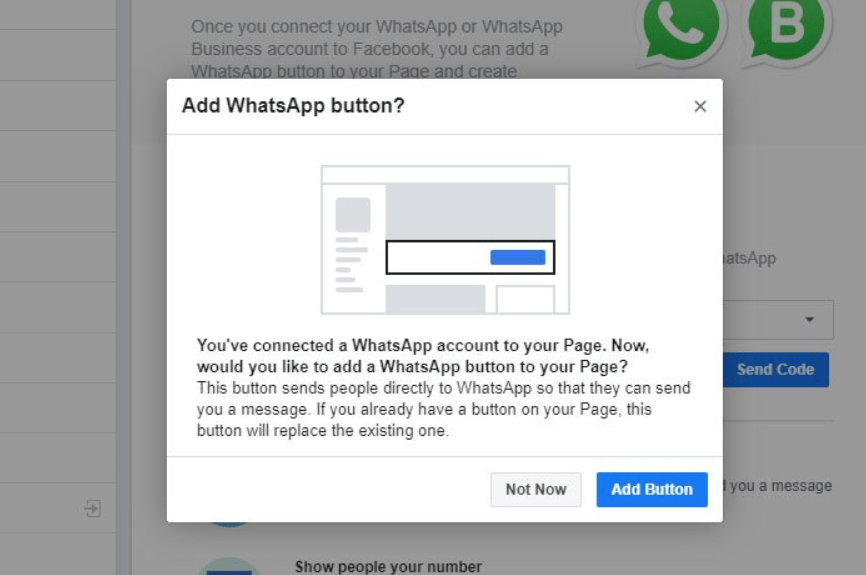 If you need to add a WhatsApp action button to your Facebook page, you can tap the Add Button choice. It is a one-step procedure, and you can discover the WhatsApp button on your Facebook page right away.
That is all, You have successfully configured the setup and now you can easily engage with your audience and check, reply to all messages without much effort. Hope it will be helpful and make things simple to manage.
For the latest tech news and reviews, follow Techipundit on Facebook, Twitter and Instagram.