Asus ZenFone 5 Lite a pocket-friendly 6-inch smartphone with four camera system allowing boundless creativity.
· Creativity without limits: World's first globally-announced true 4-camera smartphone has 20MP front and 16MP rear cameras, plus front and rear 120° wide-angle cameras
· Expanded view: 6″ Full View IPS display with Full HD+ (2160 x 1080) resolution, ultra slim bezel and 18:9 aspect ratio in a body the size of a traditional 5.5″ smartphone
· Advanced performance: Qualcomm Snapdragon 630 Mobile Platform, with high-capacity 3300mAh battery, NFC, face unlocking and a rear fingerprint sensor
· Stylish and chic: Encased in precision-crafted 2.5D-contoured glass at front and rear for a premium look and feel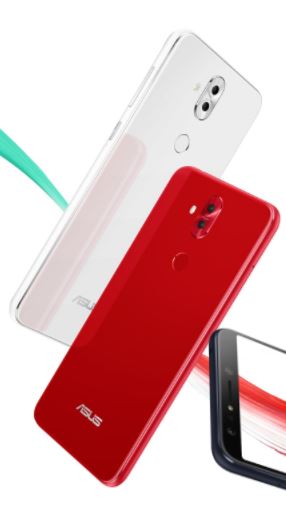 Asus along with the flagship smartphone the Asus ZenFone 5Z and ZenFone 5 launched a stylish, pocket-friendly smartphone featuring four cameras with full independent high-resolution and wide-angle camera at both front and rear. The Asus ZenFone 5 Lite take the photographic creativity to the next level with its 20MP front and 16MP rear camera sensors. The secondary 120-degree wide-angle cameras at both front and rear.
The 6inch Full HD+ IPS display on the ZenFone 5 Lite also comes with a Full View 18:9 display with an ultraslim bezel, making the ZenFone 5 Lite a compact, pocket-friendly and a good 5.5-inch phone. The smartphone is powered by the Qualcomm Snapdragon 630 SoC and packs a 3300mAh battery with convenience features and advanced security. The device also includes NFC, rapid face unlock, fingerprint recognition and dual SIM support.
Creativity without limits
Designed for true photo lovers, ZenFone 5 Lite features the world's first globally-announced true four-camera system with four fully-functional and independent cameras. The main high-resolution camera is a 20MP Sony sensor at the front and 16MP at the rear which is accompanied by a secondary wide-angle camera with a 120-degree field of view giving users an extraordinary shot. The ZenFone 5 Lite has four cameras which can be used individually, removing all the limits and giving freedom to tailor extra-ordinary shots. The ZenFone 5 Lite makes it easier to form the perfect selfie, portrait, landscape or group shot. The ZenFone 5 Lite also includes the Asus BeautyLive live-beautification technology with live-streaming video support for Facebook, Twitter, Youtube, Instagram and other social media platforms. This works in real-time offering bunch of enhancements. Beautification is also enhanced with the soft light LED flash giving perfect skin tones in any photos or when live streaming in low-light conditions.
Expanded view
ZenFone 5 Lite comes with a stunning 6inch screen but still maintained its compactness. The beautiful Full HD+ display has superb colour and the wide format delivers a bigger view of everything. The 18:9 features a full support like YouTube's 'zoom-to-fill', videos and movies have never looked better, and its extra-wide display is perfect for using dual side-by-side windows.
Advanced performance
ZenFone 5 Lite is controlled by the Qualcomm Snapdragon 630 Mobile Platform with up to 4GB of RAM for significantly speedier CPU and GPU execution. Furthermore, for blazingly quick system availability in any circumstance, ZenFone 5 Lite backings up to 400Mbps 4G LTE download speeds, up to 75Mbps transfers, and 802.11ac double band Wi-Fi.
The upgraded control effectiveness of the 14nm Snapdragon 630 Mobile Platform's FinFET Low Power Plus power-sparing innovation joined with a 3300mAh battery surrenders clients to 24 days of 4G standby time, 30 hours of 3G talk time, or 4 days of music playback use.
ZenFone 5 Lite likewise fuses NFC innovation for helpful and secure portable contactless instalments with Google Pay. For adaptable, quick and simple access, ZenFone 5 Lite incorporates fast face-open innovation that is perfect for opening the telephone when hands are cool, wet or muddled. It rapidly opens the telephone and can likewise forestall unapproved clients seeing lock-screen notices. There's likewise a convenient back mounted unique finger impression sensor that right away opens the telephone in only 0.3 seconds.
For a definitive in a hurry accommodation, ZenFone 5 Lite has a triple-space plate with two SIM openings — supporting rates up to 400Mbps — in addition to a microSD opening for extending stockpiling up to 2TB.
Stylish and chic
ZenFone 5 Lite is made of flawlessness, the glass boards at front and back just show out extravagance. The appearance is enhanced with an optical coating to give it a sheen and stunning colour. The ZenFone 5 Lite is available in three colour: Midnight Black, Moonlight White and Rouge Red.
The Availability of Asus ZenFone 5 Lite in India has not been confirmed, Stay tuned to know more updates on India Launch, but among the three smartphones, the ZenFone 5 Lite is expected to arrive earlier.
For the latest tech news and reviews, follow Techipundit on Facebook, Twitter and Google Plus also follow us on Instagram.