Xiaomi rolled out there latest ROM update of MIUI 9 at an event held in New Delhi. MIUI 9 was unveiled in China this year, and now finally after many days of testing the global version of ROM is rolling out for a bunch of devices. Xiaomi claims that most of the devices will receive the update in coming time. The event where Xiaomi unveiled the global variant of the ROM it also launched two selfies-focused smartphones in India. Xiaomi India has rolled out more than 5 devices in past one year which has filled up the space of budget smartphone under INR 10,000 to INR 15,000.
MIUI 9 comes with a lot of exciting and new feature. It is much faster and comes with a lot many exciting features which will make the user experience much better. During the launch, Xiaomi shared a lot of statics on the usage of the ROM. MIUI has over 280 plus million active users spread over in 220 countries and is available in 56 languages. The stable variant of MIUI 9 will start rolling out to selected devices which include Xiaomi hottest selling device the Redmi Note 4, Mi Mix 2 and Mi Max 2.
MIUI 8 which was launched last year had many features. It solved real-world problems with features, like the scrolling screenshot, Dual apps, Second space and much more. Now with MIUI 9, Xiaomi wants to reduce the loading time of launching applications. There have been many new features added to the ROM.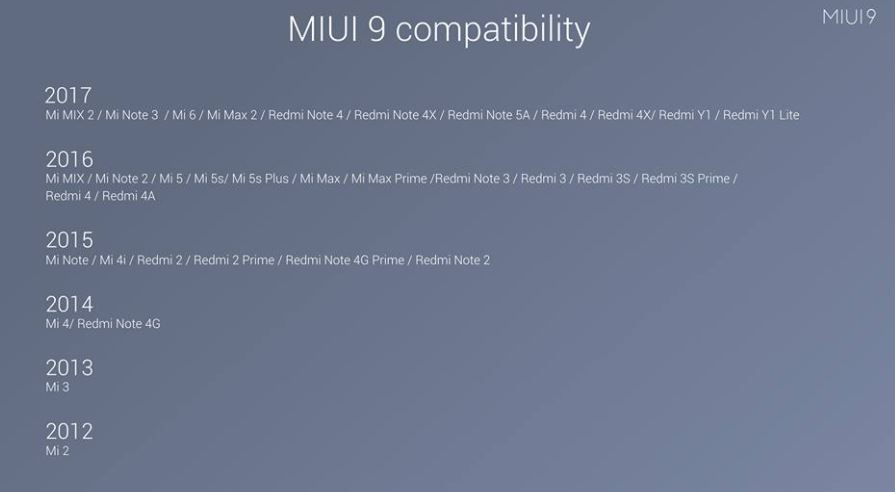 The company claims that MIUI 9 Global to be stable, optimized and speedy. The feature of split screen is also been introduced. With MIUI 9 you could do most of the things from the notification bar itself. Many new animations are been supported in the latest ROM. The MIUI 9 also comes with inbuilt photo editing tool. The new media player in MIUI 9 is build to support almost all file formats and other functions. Panchang calendar is also been added into MIUI 9 which Indian users might be very happy about. MIUI 9 Global will be supporting almost all devices which have been launched in last 5 years the first slot of the update will start rolling out from 3rd November.
Devices which will get MIUI 9 are been listed below.
Mi Mix 2, Mi Mix, Mi Note 2, Mi Note 3, Mi Note, Mi 6, Mi 5, Mi 5s, Mi 5s Plus, Mi 4i, Mi 4, Mi 3, Mi 2, Mi Max 2, Mi Max Prime, Redmi Note 4, Redmi Note 4X, Redmi Note 5A, Redmi Note 3, Redmi Note 4G Prime, Redmi Note 3, Redmi Note 4G, Redmi 4, Redmi 4X, Redmi 3S, Redmi 3, Redmi 3S Prime, Redmi 2, Redmi 2 Prime, Redmi Y1 and Redmi Y1 Lite
Here the schedule update for MIUI 9 Global Stable ROM
1st List: Device: Redmi Note 4, Mi Max 2
2nd List: Device: Mi MIX 2, Redmi Y1, Redmi Y1 Lite, Redmi 4, Mi 5, Mi Max
3rd List: Others
Source for the schedule: Mi
Only 3 devices will get the MIUI 9 right away, there has been no confirmation about when the other device will get the update. Stay tuned as we will share about how you can get MIUI 9 on a downloadable link for Redmi Note 4.
For the latest tech news and reviews, follow Techipundit on Facebook, Twitter and Google Plus also follow us on Instagram.