6" Full Optic AMOLED Display with 18:9 aspect ratio delivers immersive viewing experience and dual camera with enhanced low-light performance in a sleek flagship smartphone
An exclusive early access sale in India on Amazon.in and OnePlusstore.in on 21st November 2017.
OnePlus finally after too many rumours and leaks launched the OnePlus 5T its new and latest flagship device. OnePlus 5T is an upgrade over its predecessor the OnePlus 5 which was launched about 6 months back. The all-new smartphone offers some major and minor hardware and software updates some of which include an 18:9 display with higher resolution, enhanced low-light camera performance and many few software features.
With OnePlus 5T the company has officially marked the introduction of a 6-inch Full Optic AMOLED display with an 18:9 ratio which delivers a best in class viewing angles. The Full Optic AMOLED display features Sunlight display that adapts to the harsh light and adjusts itself to delivery great viewing experience to the users. The larger 6" display on the smartphone improve overall performance and user experience. Now users can calibrate their screen based on the preference among 4 different modes which include default, sRGB, DCI-P3 and adaptive. The large display on the new OnePlus 5T makes it look beautiful and true piece of art.
The next major change in OnePlus 5T is that the fingerprint scanner which is capable of unlocking the phone under 0.2 seconds is now been moved to the back of the device. The design aspect remain quite similar which makes this huge 6" phone still handy to use with one hand.
Dual Camera with a major Enhanced Low-light Performance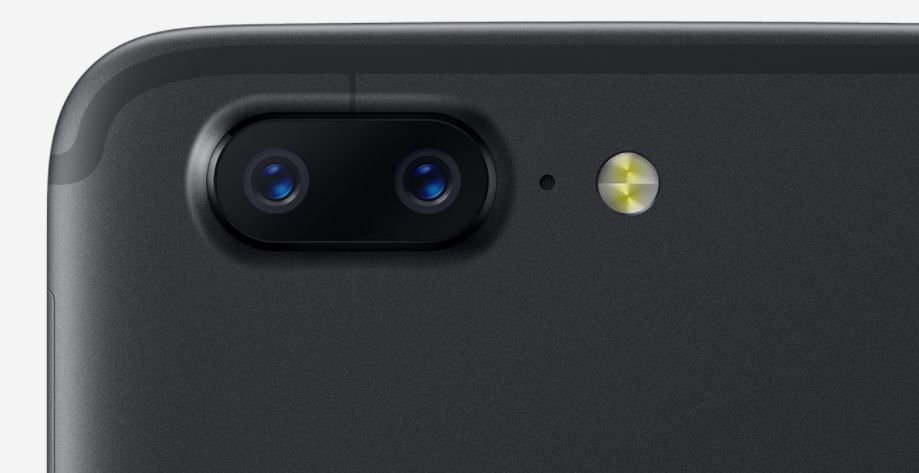 The key improvement in OnePlus 5T is the camera performance. The camera remains the same but an improved secondary camera sensor is now with a f/1.7 aperture for superior low light photography with Intelligent pixel technology which was first seen on the OnePlus 3T front camera. The OnePlus 5T secondary camera merges four pixels into one which reduces noise in low-light and gives enhanced clarity.Additional software improvements have also been added to Portrait Mode to improve noise reduction. This is accomplished through new multi-frame algorithms that compare different frames of the same scene to filter out inconsistencies and improve the overall clarity of portraits.
Android Refined – OxygenOS
OnePlus' operating system, OxygenOS, offers a refined Android experience that is faster, cleaner and more customizable than other Android experiences. OxygenOS' new platform enables a more software development process which resulted in faster, more consistent updates by user feedback. The Face Unlock feature which is been added to OxygenOS allows users to unlock their phone just by looking at the device. While this is just a software addition. The performance of Face unlock needs to be tested. One of the fastest on the Android market, Face Unlock uses over 100 identifiers to unlock the OnePlus 5T.
Similar to its approach to hardware, OnePlus approach to software is centred around an experience that is refined, efficient and minimalistic. These features were added after being tested in there OnePlus Oxygen OS Beta program.
A Day's Power in Half an Hour
Dash Charge is one of the fastest charging solutions on the global market and a favourite feature amongst OnePlus users. A half-hour of charge can give the OnePlus 5T a day-long battery life. The power management is now moved from the handset to the adapter which keeps the phone cool and still carries more current while charging.Dash charge can still be in action when the phone is in action or while your playing games.
Smooth Performance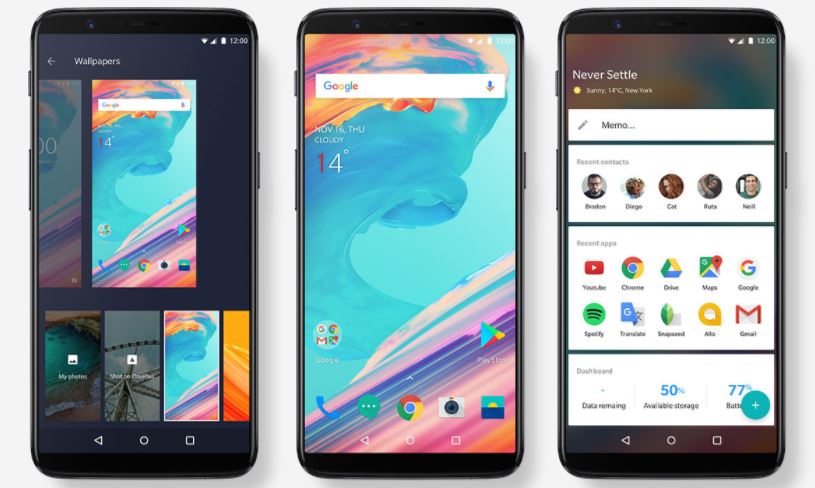 The OnePlus 5T offers a smooth experience through a combination of powerful hardware and intelligent software that works seamlessly together. With up to 8 GB of LPDDR4X RAM, it is now capable to run a large number of apps in the background without any lag, allowing users to switch between apps with ease. The OnePlus 5T dual-lane storage, based on UFS 2.1, ensures faster app loading and read/write speeds.
The OnePlus 5T powered by the Qualcomm® Snapdragon™ 835. The Adreno 540 GPU gives a good gaming experience.
Price and Availability
The OnePlus 5T will be available in 64 GB and 128 GB (Midnight Black version) storage options and retail at Rs 32,999 and Rs. 37,999 respectively.
The OnePlus 5T will be made available in an early access sale on Amazon.in, oneplusstore.in and OnePlus experience store in Bangalore on November 21 st, 2017 at 4.30 pm. OnePlus 5T open sales begin on November 28, 2017, in India, EU, and US market. For more information, please visit oneplusstore.in and amazon.in/oneplus5t. OnePlus fans who attend the launch event in any of the 5 PVR theatres across India, will get an exclusive chance to experience the device on 16 the Nov and also pre-book the device for Rs. 1000 for guaranteed purchase starting 21st November, after completing the transaction. Those who want to experience OnePlus 5T before the purchase can visit either the OnePlus Experience zones in Brigade Road (Bangalore) or Mall of India (Noida). All OnePlus 5T users will be eligible for a complimentary 12-month Accidental Damage Insurance by Servify on downloading the Kotak 811 savings account and activating it with an initial deposit of Rs 1,000 in the introductory period. Further, there are several other exciting partners offers including Amazon Prime and Kindle. In an industry first offer, OnePlus 5T customers will get 1008 GB of data from Idea. Additionally, HDFC Bank debit and credit cards users are eligible for a Rs 1,500 instant discount on the purchase of OnePlus 5T through Amazon.in until 2nd December 2017. The OnePlus 5T customers are also eligible for 1 year of free membership of Zomato Gold- the newly launched premium subscription offering from Zomato.
For the latest tech news and reviews, follow Techipundit on Facebook, Twitter and Google Plus also follow us on Instagram.