The year 2017 was a great success for Xiaomi India. Mi launched number budget devices in India and the Redmi Note 4 which was launched last year on January 19th had completely changed the budget segment in India. The Xiaomi Redmi Note 4 was a great success and a best selling Xiaomi device in India. The year 2018 has already started and a month of it is about to end but there have been not much happening around with Xiaomi but lately, in response to a tweet by Raju from TechPP, Xiaomi official Clinton Jeff revealed that something big is going to launch new month. This could be a clear indication of there next big launch.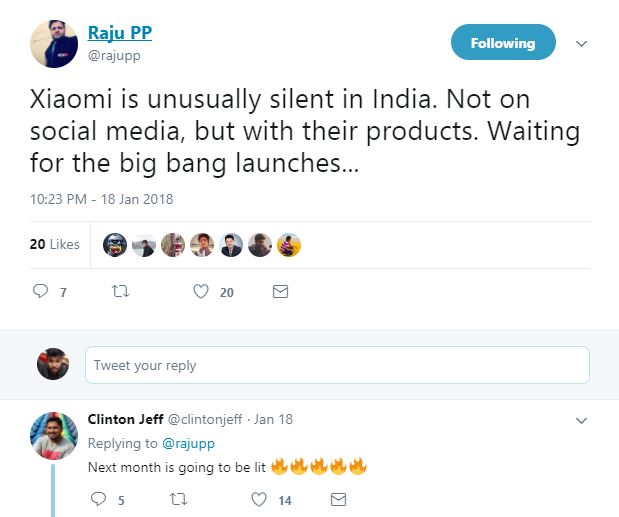 Xiaomi is also having a lot may discussion with its Mi Community on the Redmi Note series. Xiaomi recently launched the Redmi 5 and Redmi 5 Plus in China back in December, There could be a possibility of these devices getting launched in India as Redmi Note 5.
Following its tradition of getting involved with Mi Fans in device exploration mission before the launch of Redmi Note models, it is expected that Xiaomi India might soon come up with this by next month. Coming to explorer mission, selected Mi Community members aka explorers to get devices and are expected to participate in different challenges given by the company. The Redmi Note 3 explorer mission has 100 Mi Fans under Mi generation program in 2016 and last year 50 Mi Fans were selected for the Redmi Note 4 explorer mission.
Xiaomi has a strong fan-based community and fan clubs in almost 20 different cities in India which are official supported, regular meet-ups are held where there is interaction with Mi Fans and Mi mobile phone users. The latest meet-up which was held in the month of January had a theme of Reminiscing Mi Generation and discussion on the Redmi Note series as posted by President of Mi Fan Club. This could possibly be a clear indication of the next big launch.
Connecting different dots all together it seems like Xiaomi is all set to announce Explorer Program 2018 and the launch of Redmi Note 4, The device possibly been launched by Xiaomi could be the latest launched device in China with an upgraded specs and add-on features. Let us know in the comments down below what do you expect from the next Redmi Note device.
For the latest tech news and reviews, follow Techipundit on Facebook, Twitter and Google Plus also follow us on Instagram.