Last year Xiaomi India partnered with Cashify to launch Mi Exchange Program across all offline stores that are Mi Home stores. Today it has expanded the program to its online Mi Store that is Mi.com. This exchange offer will let you exchange your old phones and get an exchange coupon on mi.com. This coupon can be used to buy a new Xiaomi smartphone on mi.com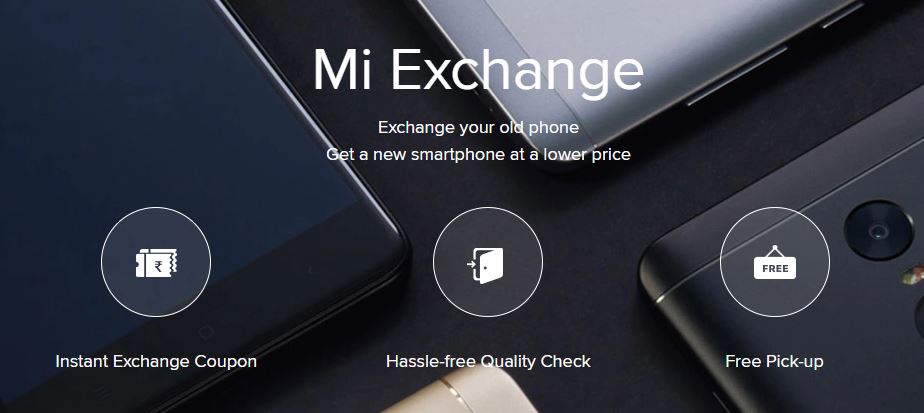 Here are the steps to exchange your smartphone for Mi Exchange program
Step 1: You can select your device from the list of supported devices available under this program. If your device is not listed then it's not eligible this program. Once the device is selected you will be asked for IMEI number. If it's a dual SIM smartphone you will have to enter both the IMEI numbers. The smartphone with cracks on screen, body dents and cracks are not eligible for the program. Any device with cloud-based security service needs to be disabled.
Step 2: After the step 1 and agreeing to TnC's of the exchange program, just hit the Get exchange coupon. Your Mi account will be instantly credited with exchange value coupon. This coupon will only be eligible to buy a new device on mi.com only and not in Mi Home.
Step 3: While purchasing a new smartphone on mi.com, you can use this exchange coupon. You will be entitled a discount on new smartphone equivalent to the value of the discount coupon during checkout.
Step 4: Once you place an order, at the time of delivery of your new Xiaomi smartphone, your old phone will be collected by our delivery executive. If we find that your old smartphone is not eligible for exchange, your order will be cancelled and the entire amount will be refunded back.
Go to Mi Exchange page mi.com/in/miexchange
Also, the exchange rate on some of the smartphone is cheaper on Cashify so it's always better to cross check before the device is been placed on the exchange.
For the latest tech news and reviews, follow Techipundit on Facebook, Twitter and Google Plus also follow us on Instagram.