In the modern day businesses of the twenty-first century, there is a need for a tough hardware that can keep up with fast-paced and ever-changing landscape of evolving industries. No matter if you are a highly placed executive in an investment bank or a field agent employed as a target bound salesperson, a laptop that can provide you secure access to your data and perform in a reliable manner in the toughest of the environments is your right, not a luxury!
The Panasonic Toughbook series is one such range that will help you reach your maximum efficiency in every field. Consisting of three levels of ruggedized laptops and tablets, this range is built to work across industries and sectors. Specifically, the business ruggedised laptops are a boon to many industries with their superior performance and protection to data and sensitive information.
In any case, there are certain questions that one should keep in mind while choosing a notebook from the wide range of Toughbook laptops, such as,
Do you need a hybrid laptop or a traditional one?
Do you need a stylus support or the touch screen with the laptop?
Will you be travelling in the field with the laptop or mostly working in one place?
Do you need a comfortable keyboard, Is that a high priority?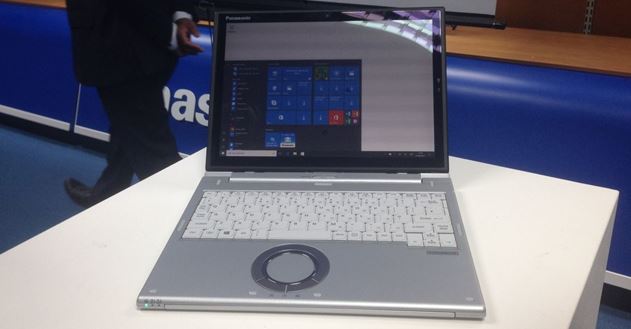 Answering this question will help you realize what model or level of ruggedness you should be expecting from your machine. The Panasonic CF-XZ6 is one such model of the Business Ruggedised Toughbook series, that far exceed any benchmark set by other laptops in the Business Laptops section.
The Panasonic Toughbook CF-XZ6 is one of the lightest, business ruggedised laptops in the world. It is a 2-in-1 detachable notebook, that gives you access to both a notebook and a tablet. The 12-inch display is sleek and extremely functional. The sleek and lightweight design helps it to be mobile and thus makes it a perfect companion for any field executive.
It has a power packed 14 hours battery life that is more than enough to match the needs of any job. The most sensitive of components of any device is the display, the hard disk, and the keyboard. In Panasonic Toughbook series each of these parts is secured and made shock and impact resistant. The Business Ruggedised Toughbook models are specifically focused on protecting them. And the robustness of this range has been significantly improved with drop tests. Even in the active operation, the CF-XZ6 can withstand a fall from the height of up to 76 cm i.e. more than two feet.
And thanks to the optimal pressure distribution, the Panasonic Business Ruggedised Toughbook laptops can withstand a pressure of up to 100 kg/f, making it an impressive device, which when paired with the right kinds of accessories will not only improve the efficiency but boost performance that can easily translate into monetary profits.
Therefore, the real answer to any business laptop need is the Panasonic Toughbook series, that is creating new standards in business laptops segments. From Pharmaceuticals to Sales Executives, to Business Operations and Management, the perfect companion to all tough businesses is the Panasonic Toughbook Business Laptops!