Prime Minister Narendra Modi government has started the Digital India Project on 2 July 2015. After initiating this campaign lot of changes have occurred in the life of a citizen of India. People have seen digitalization in the system and also feel the technology in their life. According to this perspective, we can say that due to digitalization not only executions of government's policies fasten but also it helps in increasing the living standard of the common man.
Above that digital system also easily helps in analysing the work of public representative by the voters. By the Social Media, they can know that the person whom they have selected 4 years ago, how much they have respected the public sentiments? Because today Social Media is a strong medium who is capable of making estimation by their ideas. That's why for analyzing Country Politics and Political Leaders by the people a digital platform 'Troopel' is going to start. It's an open digital platform where any person can put his views on any leader and on any political party.
From where the Idea emerges?
In this age of Social Media, every citizen is capable of making his views on any matter, a person with the mobile has its influence on Social Media. Other media who are giving us the news are they paid news? or real news?  Now this question is no more relevant as social media have its eyes on every news. This condition is also with the voice of common people. Today after the election, who comes to make conversation with the people? Whatever is happening is Monologue where the leader only speaks and people are constrained to listen to him.
To overcome this condition there was a need for a digital platform for public, where everyone has shared in it and work done by a public representative and their activeness can be evaluated. The analysis of the promises made in the time of election and the actual work which they have been performed. With this intention, we have made this platform where people came together to comment and give ratings on the working of public representative work.
Objective of making Troopel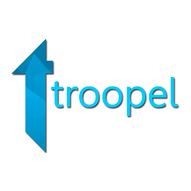 The main objective of making Troopel is to raise the public issue, solving their problems and with the help of ratings realize representatives, that people have kept eyes on their work. How much public is happy or been oppressed with them as a leader may be related with any political party, group or thinking if he works for the betterment of public, the public will be on his side. Above all, if any news which people want to know about has been restricted because of any effect or of political reason should be brought in front of the public.
Troopel is world's first rating and analytical platform where one can comment without any restrictions and fear put their views and can rate the working of any public representative and can get information about the work done by them. With the public views and analysis of Public representative work, reaching out the public is our main motto. Troopel representative Mr Ayush Maheshwari said 'Our desire is pure politics for better tomorrow'.
How to connect with Troopel
Today every 2 out of 6 people is using Smartphone. And with it, people are also been active in social media. So through Websites, Facebook, Twitter and Instagram, Troopel will connect with you or you may connect with it.
Download the Troopel Android Application Here.
For the latest tech news and reviews, follow Techipundit on Facebook, Twitter and Google Plus also follow us on Instagram.